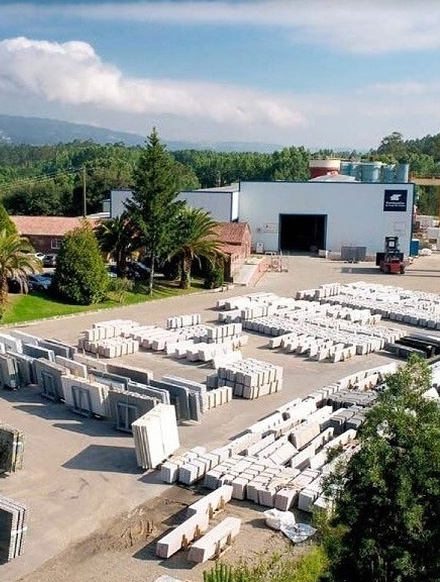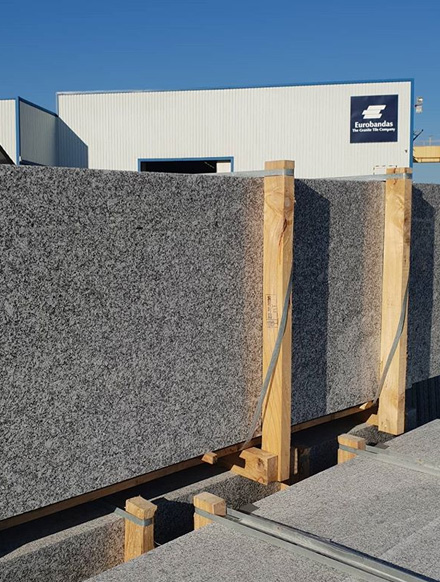 European leader in the fabrication of granite big slabs, granite slabs 70cm, and granite cut-to-size.
Eurobandas was set up in 1976 by Mr. Antonio Rigueira with the acquisition of a Porrino factory specialized in the fabrication of granite tiles through Pedrini block-cutters. Numerous projects around the world trusted Eurobandas for the fabrication and supply of granite paving and granite cladding. In 2001, Ruben Rigueira took over the company and Eurobandas established a new granite factory in Tui that allowed the company to double its production capacity. In 2015, Eurobandas invested in multiwire machinery to become one of the few companies in the world to offer 10mm granite tiles, granite cut-to-size, granite cutter slabs and granite big slabs. Nowadays, the production capacity of Eurobandas exceeds 100,000m2 per month and export its granite products to more than 40 countries
Production
Efficiency + Flexibility + Quality + Responsibility
The productive policy of our company is based on these four axes. This is the only way to explain why many projects prestigious worldwide have trusted Eurobandas .
Our two factories in Spain are located on a total area of 50,000m2, with a constructed area of 8,000m2.
Eurobandas can undertake projects of any size thanks to an annual production capacity of 1,000,000m2.
Sales and Logistic network
Global Presence
Eurobandas is located in Galicia, the main granite region in Spain and Europe.
The proximity of numerous granite quarries and the ports of Vigo and Marin give Eurobandas competitive advantages in logistics costs and in reducing CO2 emissions.
Our granite products are distributed throughout the world thanks to an extensive commercial network with direct and personal attention in the main granite importing countries
If you want to be part of our commercial team, please contact us